Nurturing Your Beautiful Skin (Part I)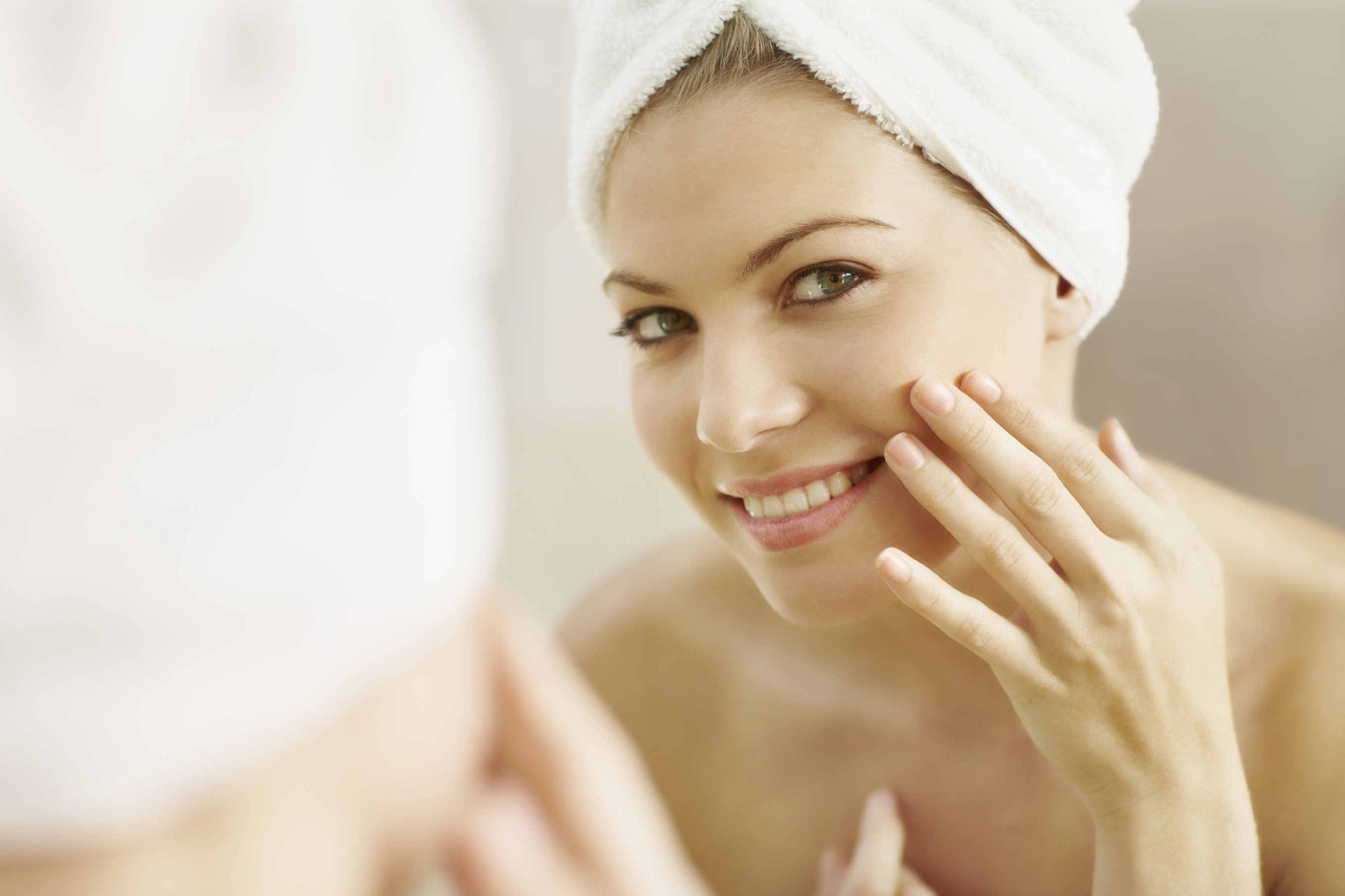 Loving the Skin You're In
 Skin is the largest organ in the human body. It's a living, breathing thing, just like your heart and lungs, and it's one of the body's major defense systems. It's also exposed to the elements and has the distinction of being both hydrophobic and hydrophilic.
 Just like your hair and nails, which are made of keratin, it also contains this hard, insoluble protein, bound with lipids to create a type of cement that makes skin impermeable— it can keep water from invading the body in large amounts.
 Your skin is not impenetrable, however. It can absorb water from the atmosphere or from cosmetics in just the right amounts and let it into the system. From the inside, the dermis, or second layer, has the ability to let water out through the surface layer, or epidermis, through a unique structure so evaporation can take place.
Human skin allows hydration into the body while keeping out infection and other unwanted substances and serves as a means by which the body can eliminate toxins and regulate internal temperature through sweat. It's also how cosmetics can effectively work to improve your skin's condition. On top of all the scientific jargon, clean, healthy, supple skin is sensual to the touch.
 The right skin care can take your complexion from lackluster to luminous, from rough or uneven to soft and smooth, and from blemished to almost flawless. But before you do anything, you'll need to know the basics of skin care for your particular type of skin.
  Know Your Skin Type Know Thyself There are so many cosmetic and skin care products on the market today that it can be overwhelming. We find them in department stores, drug and convenience stores, and even at flea markets. Reading the list of ingredients can require a degree in chemical engineering, and often we end up wasting a lot of money on products that just don't work.
 You might buy something because a friend recommended it. She says it really helped her, and the truth is that it probably did. However, it won't help you if you have a different skin type. Clever marketing of products draws us in with attractive packaging, alluring scents, or complimentary gifts with a purchase. There's a lot of competition in this multi-billion dollar industry and many brands at all price points often tout the same benefits.
  Marketing is one of the ways a company can make its brand stand out from the crowd. But as consumers, we need to look beyond packaging. I've been around makeup for a long time, and I've seen it change over the years. Today's cosmetics are skillfully engineered to be task specific. They can tighten and tone skin, reduce age spots, or clarify pores. They can contain sunscreen, collagen boosters, vitamins, and lighteners.
  But if this is not what your particular skin type needs, you'll be wasting your money. You won't see results and you'll become discouraged. Women's skin is more delicate (in most cases) than men's skin and I've seen a lot of my friends get discouraged by products that just don't work or that make their skin look worse than it did before they started using it.
  As I've said, they do work, but only for the type of skin they're designed to enhance. Before you buy another product, learn which type of skin you have.
 There are five basic skin types: 
Normal
Dry
Oily
Combination
Sensitive
   Ascertaining which type you have is easy and is the first step you should take before putting anything else on your skin. If you have what is known as "aging skin," you'll take this into consideration. The only difference is that your skin won't recover as quickly as younger skin and there are products specifically designed for you.
By the way, aging skin can happen at any age. I've seen twenty-something actresses who, close up, had aging skin from lying in the sun (or in tanning beds) too long. Perform this simple test to determine your skin type.
 First, wash and dry your face with plain mild soap and don't apply any moisturizer. Leave it for about three hours, and then press a single piece of tissue paper or blotting paper to your face.
 Normal skin: No oil will come off on the paper and your skin will not feel tight or flaky. You skin care objective is to maintain a balanced, even complexion and to keep your skin sufficiently hydrated.
Dry skin: Your skin will actually feel tight, dry, or flaky and no oil will come off on the paper. Your skin care objective is to hydrate your parched skin and keep it smooth and supple instead of flaky and irritated.
Oily skin: Oil will come off the skin on your nose, forehead and cheeks. Your skin care objective is to maintain your skin without stripping it of its natural oils, at the same time preventing shine and breakouts.
 Combination skin: Oil will come off the skin on your nose and forehead where most of the oil glands are concentrated, but not off your cheeks. You're basically addressing two different skin types. Your objective is to absorb oil in the T-zone (the nose and forehead) and to hydrate dry areas.
Sensitive skin: Your skin will have a tendency to react to new products with itchiness or redness, or it will be blotchy and feel tight. Your skin care objective is to maintain your delicate skin without causing any irritation.
 The correct products for your skin type don't just mask your skin's deficiencies; they actually allow your skin to rebalance and heal itself.
 If you have products in your drawers that are not designed for your skin type, get rid of them. And get rid of anything that's more than a year old. Some sensitive ingredients will lose their efficacy, and bacteria can build up, compromising the product in general.
 Make sure to always get products that are made of natural, organic, vegan, and cruelty-free ingredients like our Divas Never Age®️ products. All of our serums are made from the highest-quality ingredients that Mother Nature can provide.
 Try our fantastic Divas Trio! It is the regimen that I use twice a day and it works wonders on my skin!
 Every morning after my meditation, I wash my face and apply my Divas Never Age®️ Eye Serum around my eyes. Then I apply the Divas Never Age®️ Vitamin C Serum on my whole face and my neck (if you are a woman, please also apply it on your décolleté). I let it dry a little bit and then I apply the Divas Never Age®️ Hyaluronic Acid Serum in the same areas.
 You can apply any moisturizer or sunscreen afterwards, if you'd like, and then continue with your normal make-up routine. 
 At night, before going to bed, I do the same thing but with a small difference. Instead of applying the Divas Never Age®️ Vitamin C Serum first, I do it second after the Divas Never Age®️ Hyaluronic Acid Serum.
 If this is too much, you can always use the Divas Never Age®️ Vitamin C Serum in the morning and the Divas Never Age®️ Hyaluronic Acid Serum at night. But never forget to use the Divas Never Age®️ Eye Serum both, in the AM and in the PM!
 After only a few weeks, you will notice brighter, more plumped skin, less fine lines, softer dark spots, and in general, a much more beautiful and radiant skin!
 All of our Divas Never Age®️ products are planet conscious. They have never been tested on Animals. They have no harmful chemicals for the skin, your health, or environment. They don't contain any animal products, parabens, or sulfates and they are safe for all skin types. You can confidently use them under your make-up.