Facial Serums: The Skincare Secret Weapon You Didn't Know You Needed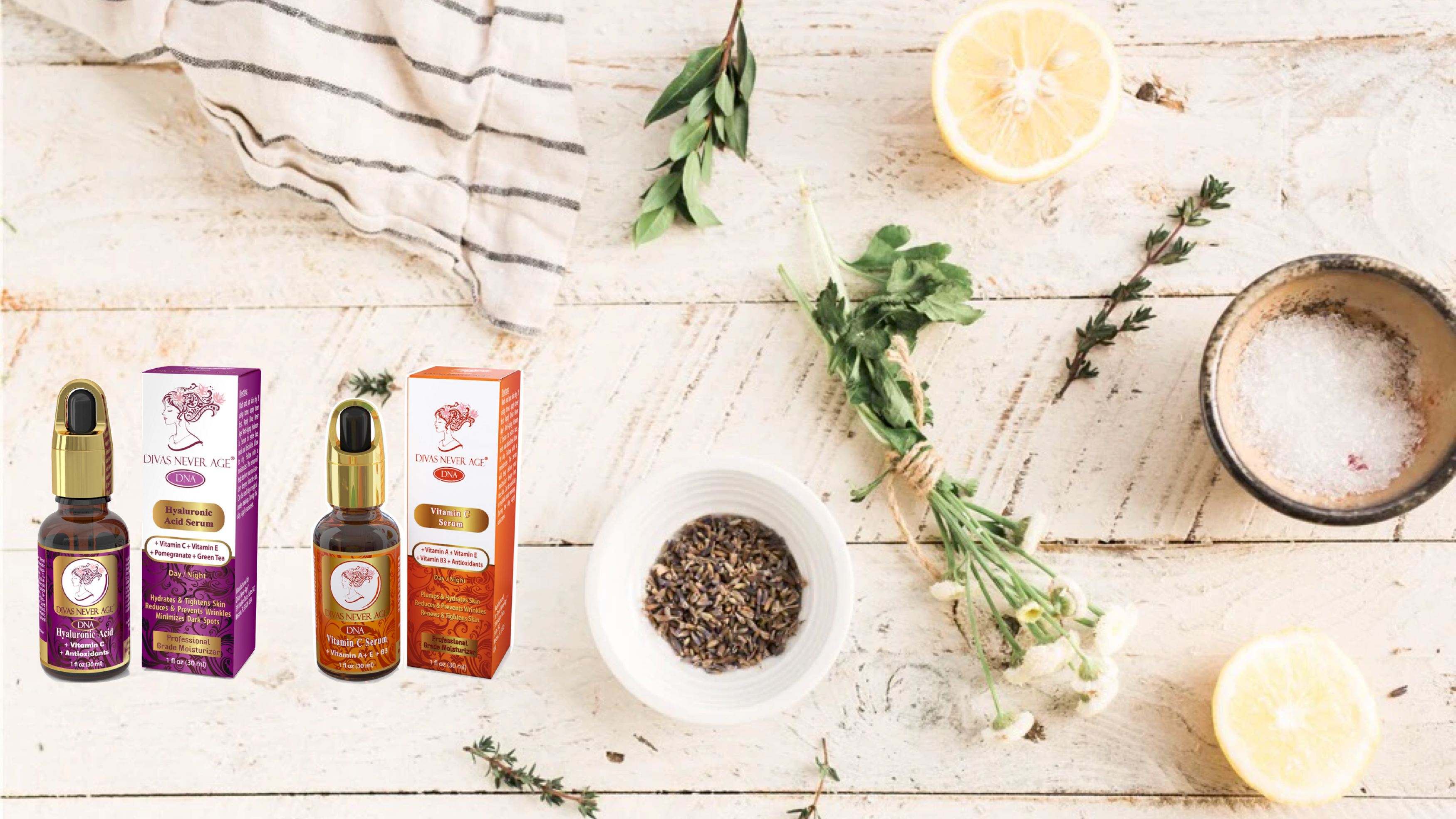 Facial serums: everyone talks about them but most people do not understand what they do. But, lucky for you, I am here to clear things up! I am going to explain what they are and why you need them 
Are they moisturizers? Kind of. Oils? Sometimes. Are they magical potions capable of making you look like a supermodel? Well, YES!
Just understand this: without a good serum, your skin will never get the complete nutrition it needs. They are the best weapon that you can (and should) use. I use them every day and my face feels (and looks) fantastic. Being a guy, I was the first to say to myself, "Meh, I don't need to put anything on my face…" but wow, what a change after I started using them! Wrinkles: gone! Fine lines: gone! Dark spots: gone! Dry appearance: gone!
I use all the products that I design and I have been hooked from the first of my serum's that I used! They are filled with the best possible combination of nutrients for your skin and offer the best bang for your buck. Simply put — they transform your skin more than any moisturizing routine could because you can tailor-design them to target your skin's unique problems. 
Now, let's get started with Serum 101:
"What is a Serum?"
Serums are highly concentrated concoctions with the intent of delivering powerful ingredients directly into the skin. Serums allow you to focus on a specific skin-related concern (wrinkles, discoloration, acne, etc.) and target it directly. They can deeply penetrate the skin (because their molecular size is very small) and they deliver a very high concentration of active ingredients, making them super effective. 
There's nothing diluted or weak about good serums (notice the word "good" because not all serums are created equally). They're like a super-powerful, super-specific recipe designed to target a specific skin issue — and solve it.
"Is a Serum a Moisturizer?"
Hmmm, well, yes and no. There are different types of serums. Some can be oil-based, others can be full of moisturizing compounds, etc. It all depends on which one you get. 
Technically, they can add moisture but are not substitutes for your moisturizer. Think of the serum as the powerful ingredient that you want to go deep into your skin, and a good, rich moisturizer can be used to create a barrier on top of the skin to keep all that serum-y greatness.
"When Should I Use a Serum?"
Serums should be applied before moisturizing but after cleansing and toning so that they can work efficiently and penetrate deep into the skin so that they can then be locked in with your moisturizer. Remember: sometimes, less is more. These serums are super potent, so just a little bit of it should do the trick! 
MORNING & NIGHTTIME SKINCARE ROUTINES:
Morning Routine:
STEP ONE: Cleanse.
A lot of people think they don't have to wash their face in the morning because they just did it at night, but it's actually really important. Your pillowcase can accumulate oils from your face and hair, as well as bacteria and dust — it all builds up while you sleep. Choose a cleanser that suits your skin type.
STEP TWO: Exfoliate.
Exfoliating in the morning is one of the most essential steps because it removes dead skin cells that can dull the surface of the skin and creates a smooth base for makeup application. Make sure to choose a gentle, liquid exfoliator you can use every day.
STEP THREE: Moisturize & Protect.
Use a good antioxidant Vitamin C serum in the morning to protect the skin against damaging free radicals.
STEP FOUR: Moisturize.
This one seems pretty self-explanatory!
STEP FIVE: Protect.
Apply a good, broad-spectrum SPF sunblock.
Night-time Routine:
STEP ONE: Remove Makeup and Cleanse.
If you wear makeup, especially eye makeup and foundation, you should have an easy-to-follow double cleansing routine. Use a makeup remover first because cleansing alone won't remove it all. Afterward, wash your face with a gentle cleanser. With your makeup out of the way, your cleanser can really get down to business, deeply purifying the skin.
STEP TWO: Exfoliate.
Exfoliating is even more important at night because you're not only removing dull, dead skin cells but you're also paving the way for better absorption by the treatment products you apply next. Again, make sure to choose a gentle, liquid exfoliator you can use every day.
STEP THREE: Repair:
Hyaluronic Acid is the gold standard ingredient in dermatology. Hyaluronic Acid (HA) is a potent, hydrating molecule, naturally found in skin that can attract up to 1,000x its weight in water. It is transformational when it comes to fine lines and wrinkles.
STEP FOUR: Moisturize.
Seal the deal with a thick, creamy moisturizer.
Weekly Routine:
Every week you can do any of the following:
Physical Exfoliation. 

Chemical Exfoliation. 

Chemical Peel. 

Hydrating Mask.
"Okay, Ricardo… but aren't serums more pricey than other beauty products?" 
Yup. Serums are often pricier compared to other skin products. But remember how I said they are jam-packed with compounds and nutrients that *actually* transform your skin??? Well, that explains the few extra dollars. You are getting the absolute best bang-for-your-buck. Here's how I think of it: being an actor, spending money on my skin is not an expense, it is an investment. 
All I'm saying is that I am very certain my future 67-year-old self will be thankful I invested in a few serums that fought wrinkles. ;) And, on top of how efficient they are, my serums usually last forever because I only use a few drops at a time! That is all it takes for the serum to work!
"But, which serum should I get?!"
So, here's the thing... When I started creating Divas Never Age®, the first thing I did was to purchase the top 10 best-selling serums on the Internet. After that, I sent them to a lab for testing because I wanted to know if they really contained everything they claimed on their labels… guess what! Not a single one of the products had an accurate label! ALL of them were not being honest. For example, one of the internet's top-selling Vitamin C serums claimed to contain "22% of vitamin C," when in reality, it didn't even have 1%! Yup, you read it right! They missed the mark by more than 99%!!!
Besides the lack of real ingredients in many serums sold nowadays, a lot of serums that are mass-produced are full of all sorts of bad stuff: chemicals, man-made compounds, parabens, etc., you get the idea. Not to mention that most of them are NOT respectful of Mother Nature or animals! And I won't even get into the fact that many of them are not organic, natural or vegan!
Basically, these things are one big science experiment… and you'd be putting that all over your face (yuck). Just a friendly little reminder that the chemicals in our beauty products do get absorbed into our bodies, raise the levels of toxic chemicals in our blood and can throw off our hormones... Again, no thank you!
Which is why I ONLY use the serums made by me (I know, I know… it sounds like an ad but it's not). I just want to help you to achieve real results for your beautiful self. All the ingredients that I use in my formulas are Organic, Natural, Vegan, and Cruelty-Free. I have the certifications to prove it!
We handcrafted 3 facial serums formulated with the most potent, plant-based, non-toxic ingredients that support YOUR skin. From brightening your complexion, to calming inflammation, to increasing collagen levels, these clarifying, soothing, and plumping serums will transform your skin naturally.
FOR A DEEP TRANSFORMATION OF YOUR SKIN:  HYALURONIC ACID SERUM WITH NATURAL VITAMINS & ANTIOXIDANTS
This professional-grade serum and face moisturizer will: 
Protect your skin from free radicals

Minimize inflammation

Give you a deep moisturizing effect 

Promote the formation of collagen

Reduce dark spots

Plump your skin

Fight acne

Brighten your skin tone

Clarify your skin complexion

Prevent cell damage

Promote elastin

Reduce wrinkles and fine lines
Amazing, isn't it? Well, that's not all! This serum will also give you the "Cinderella Effect" that will immediately tighten your skin after applying it so you will feel (and look) immediately radiant and younger!
Take a look at some of the super-powerful ingredients that this top-level facial serum contains:
Hyaluronic Acid, Aloe Vera, Vitamin C, Niacinamide, Arbutin, Green Tea, Pomegranate, Vitamin E, Moringa Oleifera Seed Oil, Caprylic Acid, Pullulan, Lauric Acid, Potassium Sorbate, and Citric Acid.
You can use it day and night, but if you are also using the Vitamin C Serum, I would suggest that you use this serum at night and keep the Vitamin C Serum for use during the day. Oh, and it works for all skin types! Did I mention that it is hypoallergenic? ☺
FOR GREAT NUTRITION OF YOUR SKIN:  VITAMIN C SERUM WITH NATURAL VITAMINS & ANTIOXIDANTS
This serum is the sister of the previous serum and is an amazing anti-aging moisturizer for your skin that will work alongside the HA Serum for the transformation of your skin. The combination of both will create a secret superpower that will make your skin look like never before!
These are some of the potent ingredients that this top-level facial serum contains:
Vitamin C Blend, Hyaluronic Acid, PEG-16 Macadamia, Vitamin E, Vitamin A, Goji Extract, Coffee Seed, Acai Extract, Noni Extract, Pomegranate Extract, Green Tea and Mangosteen Extract.
You can also use this wonderful skin serum day and night, but if you are also using the Hyaluronic Acid Serum, I would suggest that you use this serum during the day and keep the Hyaluronic Acid Serum for night-time use. It also works for all skin types and hypoallergenic!  
FOR THE BEST NUTRITION AND CARE OF YOUR: REJUVENATING EYE SERUM WITH NATURAL VITAMINS & ANTIOXIDANTS
This supercharged eye serum is our new baby! It will be available in just a few days! It does a ton of stuff, like: 
4X Peptides lifting boost

Anti-inflammatory skin-renewing ability

Tightens skin

Deep nutrition for the delicate, under-eye area

Promotes the formation of collagen

Refreshing effect

Reduces wrinkles and fine lines

Prevents cell damage

Promotes elastin

Reduces dark spots

Plumps your skin

Protects your skin from free radicals
This wonderful eye serum will make you feel younger from the moment you apply it. It contains specific and natural ingredients that will tighten your skin and will take years off of your face! Your eyes will look younger and more vibrant than ever!
Some of the powerful ingredients of this top-level facial serum are:
Aloe Vera Leaf Juice, Pullulan, Powerful Peptides: Tripeptide-1, , Dipeptide-2, and Palmitoyl Tetrapeptide-7, Vitamin E, German Chamomile Extract, Hydrolyzed Hibiscus Esculentus Extract, Calendula Officinalis Extract, Hydrolyzed Wheat Protein, Hydrolyzed Silk, Rice Extract, Eyebright Extract, Tocopheryl Acetate, Bilberry Extract, Sugar Cane Extract, Orange Fruit Extract, LemonFruit Extract, Sugar Maple Extract and Ginkgo Biloba Leaf Extract.
Use it twice a day together with your Vitamin C and Hyaluronic Acid serums. Works on all skin types and hypoallergenic. ☺ 
Remember, you will wear your skin forever, and you need to do whatever you can to keep it youthful for as long as you can! Your skin NEEDS the best ingredients that you can give it. Always look for powerful, organic, and natural vitamins and antioxidants. Make sure to read the reviews of other women who have used the products that you are interested in purchasing. 
I reeeeally recommend investing in the clarifying, soothing, and plumping serums! 
To sum it all up: serums rock. They are so powerful — and they target your exact needs. (No one-size-fits-all beauty regimen here, thank you very much!)  Thanks to being jam-packed with goodness, these serums transform your skin more than any simple "wash-and-moisturize" routine could, because they are quite literally made for that purpose. You get some the best bang-for-your-buck here, folks. 
I hope this helped clarify this "trendy" beauty item! I hope you understand serums a bit better now and realize those good facial serums are (very, very, very) worth the hype! ;) 
As always…any questions for me? Make sure you jot them down in the comments section below and I'll get back to you!
©2020 Copyright Ricardo Chávez